A reading chair is a great place where you can sit back and read for hours. Today, there are various modern reading chairs that will allow you to get absorbed in your favorite book or TV show.
However, everyone's ideal reading chair is a bit different. This is especially true because there are different brands of reading chairs that feature varying styles, designs, materials, and comfort levels.
With this in mind, we have come up with great quality reading chairs for any budget.
Let's get started!
This is our best overall reading chair for those that are after versatility, durability, and affordability. This elegant and beautiful armchair from Andover Mills is great for small spaces such as a bedroom corner or a home office. It is an attention-grabbing piece that comes in bold and vivid colors.
Therefore, it is a vibrant accent to any room and can easily become the centerpiece. The frame is made of pinewood that has foam fill with poly-blend fabric. Hence, it is long-lasting and will serve you for years.
This armchair is stylish, firm, and durable without compromising comfort. This makes it ideal for lounging while reading, looking out the window, or watching your favorite series. Even though you will need to assemble it, setting it up is overall easy.
2. Irving Roll Arm Leather Recliner by Pottery Barn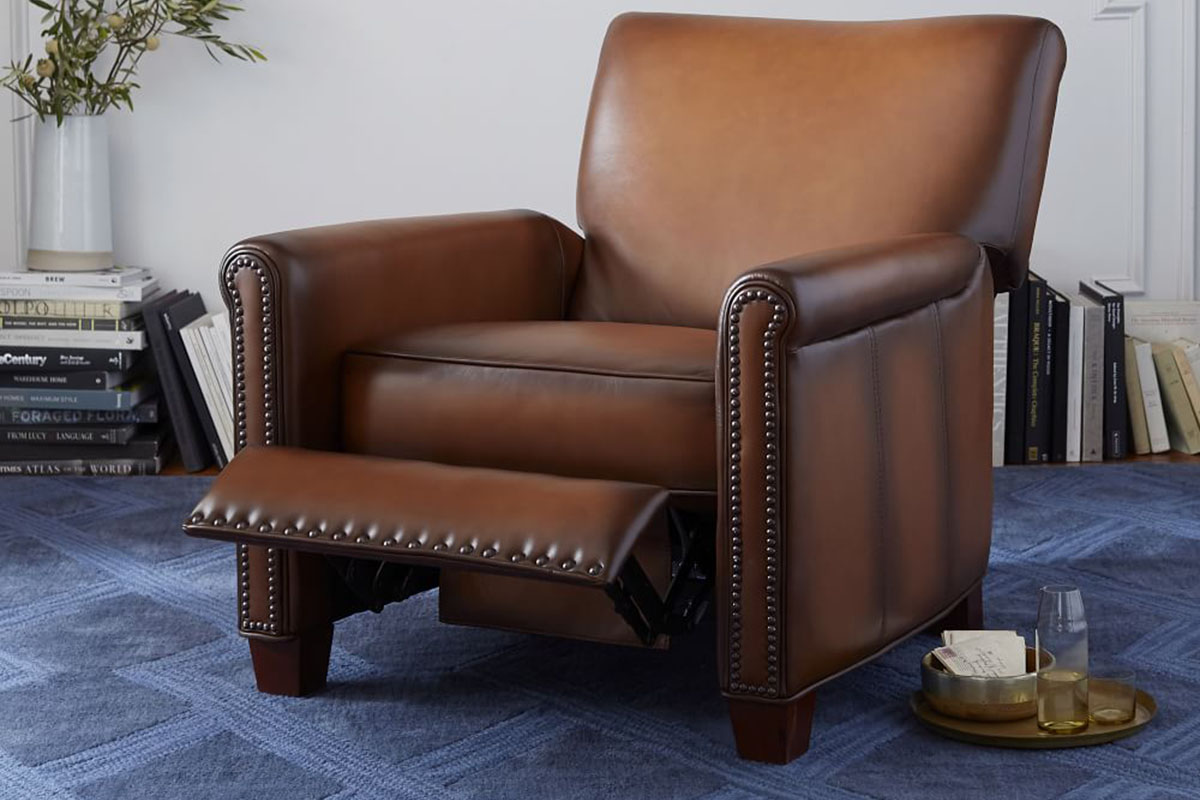 This reading chair might be the one for you if you are searching for a cozy and good leather reading chair that looks great in any space. Therefore, you can place this in your family room, home office, living room, bedroom, or basement.
It has a classic design, so you can use it for a long time. This reading chair provides the comfort you expect from a reading chair. It also comes with a recliner, so you rest your feet. What's more, there is enough support because it has sinuous springs made of steel that do not sag.
Are you looking for a reading chair for your small home or apartment? If so, then you may want to consider this West Elm reading chair. What makes this reading chair stand out from other reading chairs in the market is that it is compact and more affordable. You should not underestimate its seat size because it is deep and wide enough.
The arms are also soft and have subtle curves which provide an ideal resting area for your arms. Despite the brand, it is not very expensive. You can also pick from 3 fabrics and finishes. They include; velvet in ink blue and legs with a chocolate finish, basket slub in chili and legs with a pecan finish, and boucle in wheat and legs with a chocolate finish.
4. Briar Chair by Joybird
Even though a reading chair is not a must-have in every bedroom, it is indeed worth it. You can do many things in this chair like resting, placing your jacket, or tying your shoes. Better yet, this Briar chair from Joybird is ideal for bedrooms that do not have ample space
This chair is beautiful and can offer the ultimate relaxation. Its square shape makes it convenient to store in a corner. Because the chair is available in 65 various colors, you will not have a hard time finding a chair that blends well in your yellow or gray-themed bedroom.
IKEA is the place to go for affordable and quality furniture pieces, and the POANG armchair is no exception. This reading chair may look very basic, but it has a polished frame made of wood and a simple cushion seat that gives it a stylish look.
Customers love the price point and how compact the chair, making it great for small spaces such as a small home office, dormitory, or apartment. If you need more space or seating, you can also easily move it from room to room because the chair is extremely light.
IKEA also offers variations for this chair, so you can change it to a leather chair if you want to invest more. Alternatively, you can choose the affordable ottoman if you have a tight budget.